Holy fudgesticks.
I'm not sure I'm entirely coherent right now. Perhaps that will make for an interesting post, but probably not. Out of sheer laziness I considered putting up the angry, drunk post I wrote Saturday night, but well…I guess I'm not that incoherent.
Just been busy. I'm kind of exhausted at the moment, but I've been absent 'round these parts a bit longer than I'd like, so here I am. I probably won't be back to posting somewhat regularly for another two weeks, but I'll still pop in when I can.
I got my second share of produce today from the co-op. I finished everything from the first batch, with the exception of a package of alfalfa sprouts (there were two). It was interesting figuring out what to do with all those veggies. Here are some things I learned: I like apples way more than pears. Chard is good, especially in frittatas. Parsnips have an unusual, sweet taste that I can't exactly pinpoint.And when in doubt, roast or sautee!
Here's this week's share (I get them bi-weekly).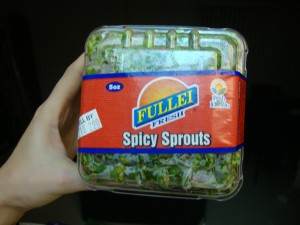 Once again, I need to figure out what I can make with these ingredients. I'm not really a fan of dill or celery, but not liking food has never stopped me from eating it. Yes, I'm a human garbage disposal. With the first batch I was a little worried that the produce would spoil before I got a chance to eat it, but it held up pretty well, especially with the green bags I used. And to be honest, I eat food way past the expiration date anyway. As long as there's no mold or green stuff growing on it, and the texture is good, it's in the clear. Like I said, garbage disposal.
Aaand on the fitness front, I saw this piece of equipment in the new Hers Muscle & Fitness. The Elliptigo!
Source.
I lol'ed, but I secretly kind of want it…even though it's basically just a stand-up bicycle. But at $1800, I think I'll stick to my Schwinn.
David walked in and told me to close my eyes and open my mouth.
He put this mostly eaten organic lollipop in my mouth -_-
Ummm…yum?
PS. Add me on the Twitters! MsFitGeek