I'm busy. You're busy. We're all busy!
But I'm like, really freakin' busy. Not that I'm trying to one-up you on busyness or anything, I'm just saying. And when you're really busy, eating healthy is an effort. It requires planning. Fortunately that's one of my strong suits. So every Sunday/Monday I bulk cook some of my food for the rest of the week.
I think it's one of the best things you can do when you're tight on time. It may not be as exciting or spontaneous as cooking a different dinner every night, but it gets the job done. And with enough creativity you can mix and match with other things that don't really need to be cooked. In my case, I also buy different lettuces, frozen artichoke hearts, broccoli, cauliflower, yogurt, cottage cheese, fruit, low-sodium canned beans (don't judge me) and tomatoes to add to my meals. And like a good, little Type-A girl, I always put together my lunches (I eat 3 times at work) the night before.
I usually go grocery shopping on Saturday. This is all the crap I bought this week. I don't normally buy this much stuff, but I guess I was having a moment. By the way, I randomly picked up Mary's Gone Crackers Gluten-Free Crackers and uh…I inhaled the whole thing in a day. Feel free to slap my wrist. Not pictured: Breyer's Blasts Whoppers Malted Vanilla. Ugh, as I said…having a moment. I never buy junk food, but I love Whoppers. I couldn't resist.
Here's what I made for this week: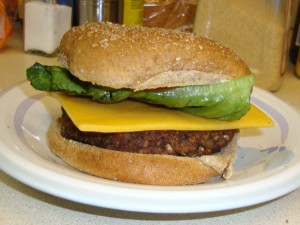 So am I the only one out there who's neurotic enough to bulk cook their food and plan their lunches out in advance? Am I making myself sound crazy by admitting this stuff? Oh well 😛