So I decided to do this post not because my life is particularly interesting or exciting, but because I thought it would be helpful to show people how I practice moderation, especially when I'm on a cut. This was from Friday, Nov. 11 and I was actually a bit tighter with what I ate than I normally am. I tend to snack more but kept it light this day.
A couple of things:
Keep in mind that I am trying to lose some fat. That requires me to be in a caloric deficit, meaning that I have to burn more calories than I take in. When I'm maintaining I eat more than this.
I don't eat super clean, as exemplified by the cheese, Clif bar, and Kombucha. However I make sure I get at least 100g of protein a day and a few servings of veggies.
I've got to be honest, after putting this post together I was like, Damn…that does not look like a lot of food. I hope I don't get criticized! It's scary to put yourself out there in front of the world to be subjected to judgment and people's opinions, but fuck it. My deficit is well within a healthy range. Some day I eat more, and some days I eat less.
On to the show…
8:30 a.m. – The Allie Open-face Breakfast Sandwich. I always eat this for breakfast. ALWAYS. FOR YEARS. I love eggs and Crystal hot sauce, and this is super easy to make. I took a bite out of it before I remembered that I was supposed to be documenting my food. Oops. (Not pictured: coffee)
11:30 a.m. – Crunchy Peanut Butter Clif Bar. This was my pre-workout meal. Sometimes I prefer to eat something a bit hardier before a workout, but that would have required me to make something. Laziness prevailed, so this would have to do for today.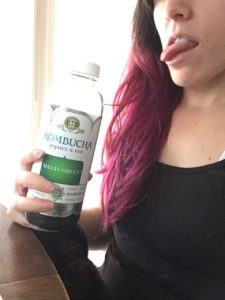 12:00 p.m. – Kombucha. I love Kombucha. This flavor was kind of meh but still drinkable. I prefer Gingerade much more.
1:00 p.m. – Workout. I did deadlifts. Right now I'm following this program if you're interested. I HATE the hex plates at LA Fitness. They make deadlifting so difficult and awkward. Although I normally reset after each rep, having to change my whole position because the bar rolls out of place is really annoying. I stopped deadlifting for a while because of this, but I sucked it up and now just deal with it. Still…MEH!
2:45 p.m. – Cuddle time with Mama kitty while I work and finish drinking Kombucha.
3:00 p.m. – Lunch time. This is one of my meals from Fresh Meal Plan. Tuscan Shrimp & Clams. I added a little extra quinoa. It was goooood.
4:40 p.m. – Went for a walk, said hello to the moon.
7:30 p.m. – Dinner. A chicken caprese salad from Fresh Meal Plan. It's actually a lot bigger than it looks here.
I'm an old lady now so I was in bed by 10:00 p.m. on a Friday night. Had to save energy for Saturday, which was my friend's birthday and thus, my cheat night. It turned out to be a late night with a lot of indulgences. Yikes. But it's Monday and I'm back on track…maybe… O:-)