Ahhh…vacations. A time to enjoy yourself, leave all your stress and worries at home and immerse yourself in the moment. That was my plan during my trip, but I didn't want to completely throw caution to the wind when it came to eating. Initially I had told myself that I'd eat whatever I wanted, but within reason. But I was pretty much lying to myself because I overate just about every day. I guess that's how vacations tend to go, huh? Intuitive eating is really hard for me when I'm not in my normal element.
I might be exposing myself as weirdo by admitting this, but I have a tendency to get home-sick during vacations. Something about being in a different environment without my routine can make me feel off. I start missing cooking for myself and sleeping in my own bed. I think I just need to learn to relax!
But anyway, I don't want to sound too negative. Despite my own little hang-ups, I still had a great time. I haven't been to Disney/Epcot in a little more than 10 years, but I actually enjoyed this visit more than any previous ones. I know Epcot is usually considered the boring, educational theme park, but I really liked it, haha. I think now that I'm older I can appreciate all the effort and details that go into making each attraction.
And even though I totally indulged, I went to the gym in the resort we stayed in and walked a ton. (Note to self: Chucks aren't really the greatest kicks to get you through a 9-hour day on your feet.) So I was pretty proud of myself for that. I was a little disappointed that the gym didn't have a squat rack, but I made the most out of the available equipment.
And now…pictures!
One of the cast members at the haunted house gets an A for effort. He totally succeeded at being creepy. David and I were distracted as we walked up to the entrance, and the guy slammed the trap door of a metal garbage can which startled the crap out of me. Then when we were in the stretching parlor room, he crept up RIGHT behind me when the lights went out, so when I turned around he was THISCLOSE to my face. I guess it's good to see someone who really enjoys their job!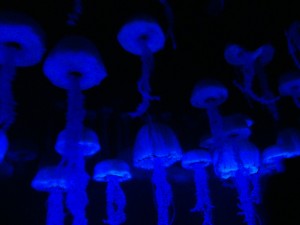 I was so disappointed with this ice cream. In a laughable attempt to be healthy I ordered a scoop of no-sugar added butter pecan ice cream in a cone. I figured that even though it was no-sugar added that didn't mean it was sugar-FREE, and it would probably still be pretty sweet. Egh. Didn't taste very good. I'm kind of weird about ice cream anyway. I can't eat too much of it unless there's something crunchy in it. I'm big on texture. The scoop was huge, and since the ice cream wasn't that tasty I dumped half of it in a cup so I'd be that much closer to the cone. David's cookie dough ice cream was waaaaay better.
Looking back on these pictures reminded me of how good a time I really did have. I'm feeling all mushy gushy now. Yay 🙂
So, does anyone else ever feel a little off on vacation, or am I just a tight-ass?