The first day back from vacation is surprisingly refreshing for me. I feel settled and excited to get back into a groove. It's like a homecoming homeostasis, if that makes any sense.
The highlight of my first day back was going to a farmer's market in Pinecrest.
Miss Guru Rabbit (aka Sylvia) was there selling some goodies she made with flavored salts. Check out her site for all kinds of good for you recipes.
Sylvia made a batch of cookies and nuts using Sierra's Sea Salts (the creation of Stuart and his dog Sierra), and will be at the Pinecrest farmer's market every Sunday in case you're interested. And my boyfriend just pointed out that there's a lot of S alliteration going on there: Sylvia and Stuart sell Sierra's Sea Salts and snacks on Sundays.
Flavors include espresso brava sea salt, habanero sea salt, rosemary, chipotle and more. I got the Himalayan sea salt (which is mixed with the block of mineral you see in the background of the picture above.)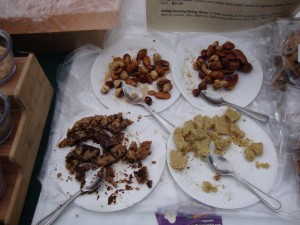 I had a few bites of everything and it was all tasty, especially the chocolate chip cookie. Salty + sweet = win!
I also took home a zucchini, cauliflower, cilantro and green beans. It felt good to buy local!
After all the greenery, David and I were in the mood for something a little sweet. So we had our first taste of Pinkberry. I got a mini mango with chocolate chips and granola, and David had a small pomegranate and original with strawberry pearls, organic gummy bears and granola. It really hit the spot. And on a side note, has anyone seen the Curb Your Enthusiasm episode about Pinkberry? I wish I could've remember the flavor Larry ate, haha.
Now I need to get to bed to wake up nice and early for the gym. Night!