Saturday evening I had an interesting night at Peruvian restaurant, Las Totoritas (7365 NW 36 St, Miami, FL,  33166). I've been to this place a number of times before on my lunch break, and their ceviche has always been my favorite out of all the places I've tried in Miami. I'm half Peruvian, and I love the cuisine. I was really craving it, and I figured it was about time I did another installment of Healthy Eating Miami. That was all the motivation I needed to haul my cookies over to Doral in the rain.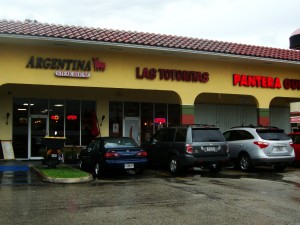 As soon as we got there our server offered us some sangria. Hell yeah! From our seats I could see her preparing it, but to my dismay she poured about a third of a 2-liter bottle of ORANGE SODA into it. Hell no! I looked up a few sangria recipes online and some of them include ginger ale, club soda and orange juice. But orange soda??? Listen, I'm not that picky. It wouldn't have bothered me that they put it in the sangria, but I swear there was more soda in there than anything else. We asked if they could pour a little more wine in, but they told us we'd have to buy another one. Um…no. I let David finish it and I didn't really bother with the rest.
Besides that disappointment, the rest of our meal was quite satisfying. I ordered the shrimp and fish ceviche (cebiche de pescado y camaron), and like all the other times I've been to Totoritas, it was awesome. Ingredients include spiced lemon juice (leche de tigre – I could seriously drink the stuff straight), large roasted and fresh corn kernals (choclo), onions, tilapia, shrimp and sweet potato. If you're trying to eat healthy, I think this is a great option. They also serve it with just fish, just shrimp, or mixed (fish, shrimp, calamari, octopus).
I will say that the ceviche portion was smaller than it used to be. That's a good thing if you're trying to watch your waistline or lose weight. However, if you'd like a much larger serving you could order the family size. I was in the mood for a hearty meal, so I ended up ordering a soup — parihuela, which is tomato-based with lots of seafood. It had calamari, octopus, fish, shrimp and an oyster in the shell. It comes in a large serving, so David and I split it.
This one is also a healthy option, but if you're squeamish about your food having a face…you might not want to order this soup. We found these guys in there.
Despite that, I still really liked the soup. It gave me a nom attack. In fact, everything I ate at Totoritas gave me a nom attack (with the exception of the sangria, of course.)
And on the less healthy spectrum, David ordered the jalea (a huge fried seafood platter). It was GOOD. Like really good. Although it also had one big shrimp with a face.
Overall we had a good experience here. The place is usually packed, and for good reason. If you're ever in the area and would like a healthy, delicious meal, I'd highly recommend the ceviche. The parihuela is tasty too! And the jalea is off the chain, but not if you're trying to be healthy 😛
A few things to keep in mind:
Totoritas can be a little hard to find if you're not familiar with the area. It's in the shopping center right next to the Wendy's.
Most of the servers primarily speak Spanish, but they can still accommodate someone who only speaks English.
If you happen to come at a really busy time, there is a hidden room aaaalll the way in the back with more seating.